Holy Cross, Durley
Important News about Durley Church Fete 2020
It is with great regret that we have had to make the decision to cancel the Church Fete this year. The regulations relating to large events are still far from clear and, above all else, we want to ensure the safety of our community.  As you are probably aware, the Fete is the main fundraiser for Holy Cross Church, Durley.  This, along with donations and other fundraising events, is the main revenue for the church – there is no income from any other sources. The income has been further reduced this year because of the need to close the church for the past four months. It is particularly unfortunate that we have had to cancel the fete, as the church roof needs to be completely renovated in the near future. The cost of the roof project will be in excess of £70,000.
We want to ensure that the church continues to be available for the community in the coming years.  Please would you be willing to support Durley church this year in one of the following other ways? 
JUST GIVING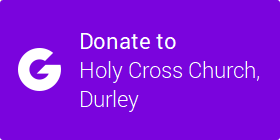 Would you be willing to make a donation towards the church roof restoration fund – maybe for the amount you would have spent at the fete? Please click on the JUST GIVING link above!
or send donations to Brian Page, Hurstdale, Botley Road, Horton Heath, Eastleigh SO50 7DN; cheques payable to PCC Durley.
If you are a UK taxpayer we can claim an extra 25% of the value of your donation from the Inland Revenue (at no extra cost to you) through the Gift Aid scheme.  If you would be willing to Gift Aid your donation, please include your name and address with your donation so that Brian can send you a Gift Aid form. (If you donate through Just Giving they deal with the Gift Aid).
GRAND DRAW
We are still going ahead with the Grand Draw, which will take place on 5th September. There are lots of great prizes up for grabs – click here to see the prizes. 
If you would be willing to buy Grand Draw tickets and/or sell tickets to friends and family,  please contact Elizabeth Steel (01489 860253) who will be happy to send you some tickets.
SILENT AUCTION
Would you make a bid (for one or more items) in the Silent Auction which will be running throughout the summer? The winning bids will be announced, and the winners notified, on 5th September.
Click here for full details and photos of all the lots in the auction.
Please make your bids by email send to events@wintershill.net  stating clearly which item/lot(s) you are bidding for, the amount of your bid(s) and your telephone number. All bids must be received before midnight on Friday 4th September.
No bids will be accepted that are below the minimum bid for each item.
Keep your eye on this web page – we may get some more lots donated during the summer. If you have any items or promises that you would be willing to donate to the auction, please contact Gill Mulley (01489 860587).
CAROLYN'S AFTERNOON TEAS delivered to your door!
Delivery local to Durley (5 mile radius) or you can collect. Saturday 15th August.   £10 a head.
Afternoon tea to include a round of mixed sandwiches, scone with cream and jam, and a selection of homemade cake per person (GF available).
Please telephone Carolyn Campbell on 01489 860852 by Wednesday 12th August to order.
EBAY
We are selling larger/more valuable/antique items on ebay in aid of the fete. If you have any suitable items that you would be willing to donate, we will be happy to sell them in an ebay auction.
SPONSORSHIP
The following companies have very kindly sponsored our Church Fete this year even though it is not going ahead:
D Adams & Sons Roofing Ltd
Bovis Homes
Butler & Co Chartered Accountants (Bishop's Waltham) Ltd
Graham & Carolyn Campbell
Connect It Utility Services Ltd
Wedeman Consulting Ltd
A DATE FOR YOUR DIARY
Hopefully, by June 2021 the Coronavirus will be in the past and life will have returned to relative normality, so please make a note in your diary of the date of next year's fete, which is Saturday 19th June 2021